Music is available throughout Facebook, you have surely have a collection of videos with music you love saved up, wouldn't you like to get that music downloaded so you can listen to it on the go? Not a fan of music? You are more of a podcasts person perhaps? Do not worry; we have got a solution for that as well. Here are the top 5 best Facebook audio downloader both online and software you can use to download your favorite songs or even podcasts.
1. Getfvid
It is a normal thing for Getfvid to appear as the first best Facebook audio downloader on our list. You can use this Facebook audio downloader online and on all devices including tablets, PC, and mobile phones. You can use the website at any time as you want, it is free and has a chrome extension ready for download if you want it integrated into your navigator.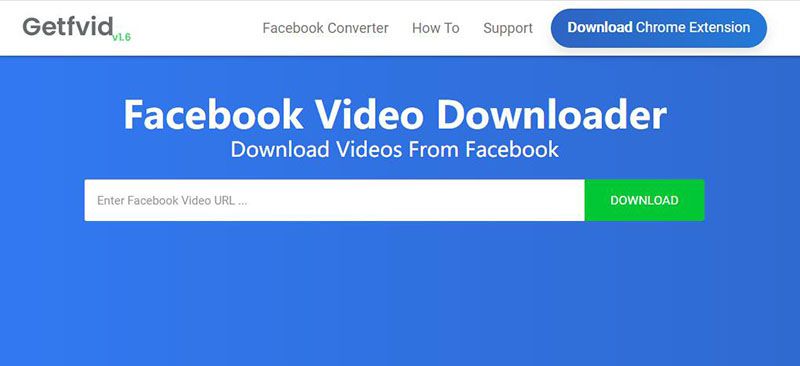 Pros:
Supports various audio output formats and quality options
Support mobile and desktop.
Easy and quick
Cons:
Too much Ads
No separate output file path
2. Fbsearch
The second Facebook audio downloader online platform is FBSearch. A free to use website that provides easy use and unlimited downloads. Unlike other platforms with the same service, you will not need to create an account to use FBsearch.
There are several formats supported by this website such as MP3, M4A, WAV, OGG and ACC. You can download the software as well if you plan to use it regularly. There are no limits to the number of videos you can download.

Pros:
No limitation to the number of videos
Supports various audio output format and quality;
Support mobile and desktop (change default destination folder by browser setting).
Cons:
Takes a long time to convert videos to MP3
3. Myvid
MyVid is multifunctional website that enables you to download facebook video to MP3 from various platforms and Facebook is one of them. It the easiest to use among all the ones listed here. All you have to do is paste the link of Facebook video, paste it, and hit the download button.
Pros:
Too much Ads
Very simple and easy to use
Youtube playlist downloader
Cons:
Limited output format
Supports MP3 only
4. Vido
Vido is the savior of everyone who had once been looking for the best Facebook audio downloader. When it came it literally raised the bar for all other platforms. It enables you to download videos from Instagram, Youtube, Twitter, and of course, Facebook.
Once you paste the link of the video you want to download, you will see dozens of options you can choose from. You can download audio from even the longest videos available on Facebook.

Pros:
Too much Ads
Very simple and easy to
Cons:
Limited output format,
Supports MP3 only
5. fbdownloader
Last but not least, the widely used Facebook audio downloader online, FBDownloader. The usage of this website is as easy as all the ones mentioned above. You can use FBDownloader on iOS, Mac, Windows, and Android devices. On all these operation systems, you can download the highest audio quality from Facebook videos.

All you have to do is get the link of the video, paste it, and hit the download button.
Pros:
Free and easy to use;
Straightforward interface;
Quick conversion speed
Cons:
Limited output format,
4K or high-quality Facebook videos will be compressed to HD or SD clips with visible quality loss
Conclusion
These were 5 of the best Facebook audio downloaders you can find on the internet. They are available in Online and Software. Each of these options adds more benefits than the other. If you want to get the most out of them, make sure you install the software.