Since you are here, you are probably tired of looking for a Facebook URL downloader that allows you to download videos from this social media platform. You have probably searched for hours until you stumbled upon of the best Facebook URL video downloaders.
Best Facebook Video Downloader – Savefvid
Savefvid.cc offers a free and fast service. We give our users the chance to download an unlimited number of videos every day without displaying any ads or bothering them with requests to create an account.
You need to do to download Facebook video by url is to find a link to the video you want to download. In this article, we will talk about the steps you need to follow to use Savefvid Facebook url downloader. Each step will be accompanied by a picture that explains better what you need to do.
How to Download Facebook Video by URL
Step 1: Get The Link of The Video
Naturally, the first thing you need to do is to get the link to the video you would like to download. Head over to Facebook, click the video you want to download, and copy the link as you can see below.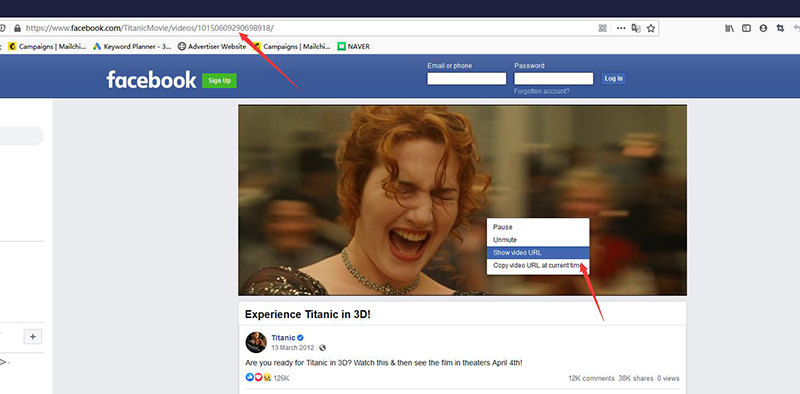 Step 2: Paste the Link to Download URL Facebook videos
With the link copied, head over to savefvid.cc Facebook URL downloader. The homepage is simple and user friendly. Once there, you will able to figure out the next on your own.
Paste the link on the designated area, a long white search box in the middle of the page. Once done, hit the download button.

Step 3: Download Facebook Video URL
When you click or tap the download button, the conversion will start instantly. It usually takes a video less than 10 seconds to be converted from a link to a downloadable MP4 file. However, if your video is long, it will take between 2 to 3 minutes, so please wait patiently.
You will know your Facebook link download is ready when 3 options will appear under the search bar. These 3 options give you a variety of choices you can pick from.
Click on "Download MP4" and your download will start automatically.

Bottom Line
As you can tell already, using savefvid.cc is easy and fast. All you have to do to download URL Facebook videos is to find a link and follow the steps mentioned above.
Savefvid also allows you to convert videos to audio and download them to MP3. However, if you are willing to get the most of this tool, we recommend that you download our premium HD software.
Through the software, you will be able to download bulk videos. You are only required to find all the URLs to download Facebook videos in a single click.
You will also be able to download videos in the highest quality possible. From 720p to 4K, our HD video downloader will be your best Facebook link video downloader. What you are waiting for? Get the most out of Savefvid.cc Facebook URL downloader.